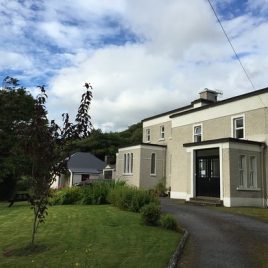 Situated at the very head of the Killary Harbour, the Convent Guesthouse offers unrivaled views of the Killary and the fantastic mountain scenery that bounds it. The guesthouse is in the very heart of the village of Leenane.
The house was built in the mid nineteenth century by a wealthy wool trader and had several owners through to the mid 1920's when a store and shop were added to the grounds. The house was then purchased and converted to a convent by the Mercy order of nuns who extended the house and built the beautiful oratory.
The building was converted in the mid 70's to a guesthouse, whilst carefully preserving the unique character of the building.
The guesthouse boasts 5 rooms, all en suite and all with breathtaking views of the Killary. Breakfast is served under the stained glass windows in the unique atmosphere of the old chapel. A private sitting room is available to our guests.
Modern conveniences are WiFi connectivity, TV lounge and tea and coffee making facilities.