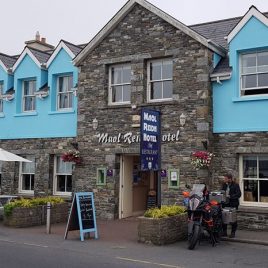 Maol Reidh Hotel is a delightful hotel nestling in the picturesque village of Tullycross in the Renvyle Peninsula on the west coast of Connemara.
Newly built in 2002 this luxury hotel offers the most up to date facilities. The bedrooms are modern and spacious all with large en suite bathrooms.
Each spacious bedroom has an en-suite bathroom, a TV, dvd player, an iron, a hairdryer and tea/coffee making facilities.We have a library of books and films to pass away the restful hours.
Our bar is one in which to meet and greet over a beer, wine or any of our range of drinks. Or merely sit back, sip away and watch the world go by. Join in our regular musical and singalong evenings.